Exclusive Coverage : Jayjay Epega, Jon Trevor, Fykaa Caan – Hollywood London
The Hollywood Foreign Press Association (HFPA) announced the winners of the 77th Annual Golden Globe Awards. Ricky Gervais hosted the high-profile ceremony that aired live on NBC from The Beverly Hilton.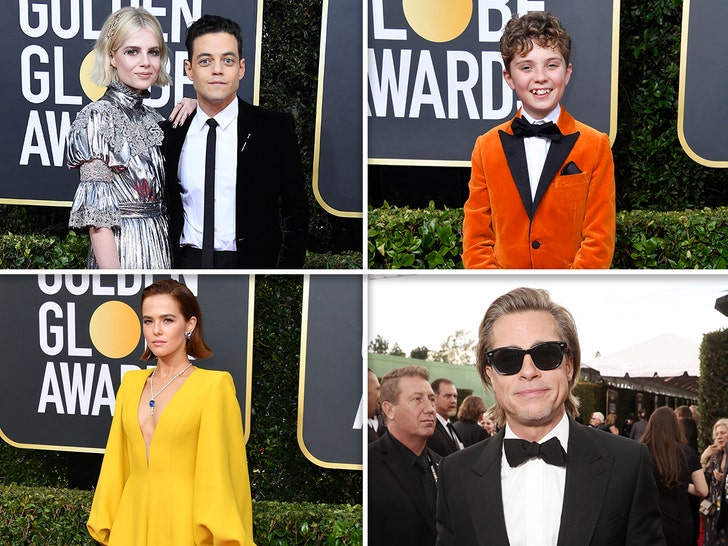 Tom Hanks was honored with the 2020 Cecil B. deMille Award, and Ellen DeGeneres received the Carol Burnett Award. Dylan and Paris Brosnan carried out their duties as the 2019 Golden Globe Ambassadors
This year's awards were presented by an all-star list of celebrities including Tim Allen, Jennifer Aniston, Ana de Armas, Antonio Banderas, Jason Bateman, Annette Bening, Cate Blanchett, Matt Bomer, Pierce Brosnan, Glenn Close, Sasha Baron Cohen, Daniel Craig, Ted Danson, Leonardo DiCaprio, Ansel Elgort, Chris Evans, Dakota Fanning, Will Ferrell, Lauren Graham, Tiffany Haddish, Kit Harington, Salma Hayek, Scarlett Johansson, Elton John, Nick Jonas, Priyank Chopra Jonas, Harvey Keitel, Zoë Kravitz, Rami Malek, Jennifer Lopez, Ewan McGregor, Kate Mckinnon, Sienna Miller, Helen Mirren, Jason Momoa, Gwyneth Paltrow, Brad Pitt, Amy Poehler, Da'vine Joy Randolph, Margot Robbie, Paul Rudd, Wesley Snipes, Taylor Swift, Bernie Taupin, Charlize Theron, Sofia Vergara, Kerry Washington, Naomi Watts, Rachel Weisz and Reese Witherspoon.
Produced by dick clark productions in association with the HFPA, the Golden Globe Awards are viewed in more than 210 territories worldwide. Lorenzo Soria is president of the HFPA. Mike Mahan, CEO of dick clark productions, Amy Thurlow, President of dick clark productions and Barry Adelman, Executive VP of Television at dick clark productions served as executive producers.
About the Hollywood Foreign Press Association
The Hollywood Foreign Press Association (HFPA) was founded in 1943 – then known as the Hollywood Foreign Correspondents Association – by a group of entertainment journalists based in Los Angeles. During World War II, the non-profit organization established a cultural bridge between Tinseltown and millions of cinema fans around the world who demanded drama and inspiration through entertainment. The HFPA continues to do so today with a membership representing more than 55 countries. Since 1944, the group has hosted the annual Golden Globe® Awards – the premier ceremony which honors achievements in both television and film. The licensing fees from the Golden Globe® Awards has enabled the organization to donate more than $37.5 million to more than 70 entertainment-related charities, film restoration, scholarship programs and humanitarian efforts over the last 25 years. For more information, please visit www.GoldenGlobes.com and follow on Twitter (@GoldenGlobes), Instagram (@GoldenGlobes), and Facebook (www.facebook.com/GoldenGlobes).
About dick clark productions
dick clark productions (dcp) is the world's largest producer and proprietor of televised live event entertainment programming with the "Academy of Country Music Awards," "American Music Awards," "Billboard Music Awards," "Golden Globe Awards," "Dick Clark's New Year's Rockin' Eve with Ryan Seacrest" and the "Streamy Awards." Weekly television programming includes "So You Think You Can Dance" from 19 Entertainment and dcp. dcp also owns one of the world's most unique and extensive entertainment archive libraries with over 60 years of award-winning shows, historic programs, specials, performances and legendary programming. dcp is a division of Valence Media, a diversified media company with divisions and strategic investments in premium television, wide release film, specialty film, live events and digital media. For additional information, visit www.dickclark.com.
HOLLYWOOD FOREIGN PRESS ASSOCIATION 77TH ANNUAL GOLDEN GLOBE AWARDS 
BEST MOTION PICTURE – DRAMA 
1917 
DreamWorks Pictures / Reliance Entertainment / New Republic Pictures / Neal Street Productions / Mogambo; Universal Pictures 
BEST PERFORMANCE BY AN ACTRESS IN A MOTION PICTURE – DRAMA 
RENÉE ZELLWEGER JUDY 
BEST PERFORMANCE BY AN ACTOR IN A MOTION PICTURE – DRAMA 
JOAQUIN PHOENIX JOKER 
BEST MOTION PICTURE – MUSICAL OR COMEDY 
ONCE UPON A TIME… IN HOLLYWOOD 
Columbia Pictures; Sony Pictures Releasing 
BEST PERFORMANCE BY AN ACTRESS IN A MOTION PICTURE – MUSICAL 
OR COMEDY 
AWKWAFINA THE FAREWELL 
BEST PERFORMANCE BY AN ACTOR IN A MOTION PICTURE – MUSICAL 
OR COMEDY 
TARON EGERTON  ROCKETMAN 
BEST MOTION PICTURE – ANIMATED 
MISSING LINK 
LAIKA / Annapurna Pictures; United Artists Releasing 
BEST MOTION PICTURE – FOREIGN LANGUAGE 
PARASITE (SOUTH KOREA) 
CJ Entertainment; Barunson E&A; NEON 
BEST PERFORMANCE BY AN ACTRESS IN A SUPPORTING ROLE IN ANY 
MOTION PICTURE 
LAURA DERN MARRIAGE STORY 
BEST PERFORMANCE BY AN ACTOR IN A SUPPORTING ROLE IN ANY 
MOTION PICTURE 
BRAD PITT ONCE UPON A TIME… IN 
HOLLYWOOD 
BEST DIRECTOR – MOTION PICTURE 
SAM MENDES 1917 
BEST SCREENPLAY – MOTION PICTURE 
QUENTIN TARANTINO ONCE UPON A TIME… IN 
HOLLYWOOD 
BEST ORIGINAL SCORE – MOTION PICTURE 
HILDUR GUÐNADÓTTIR JOKER 
BEST ORIGINAL SONG – MOTION PICTURE 
"I'M GONNA LOVE ME AGAIN" ROCKETMAN 
Music and Lyrics by: Elton John and Bernie Taupin 
BEST TELEVISION SERIES – DRAMA 
SUCCESSION 
HBO Entertainment / Project Zeus / Hyperobject Industries / Gary Sanchez Productions; HBO 
BEST PERFORMANCE BY AN ACTRESS IN A TELEVISION SERIES – DRAMA 
OLIVIA COLMAN THE CROWN 
BEST PERFORMANCE BY AN ACTOR IN A TELEVISION SERIES – DRAMA 
BRIAN COX SUCCESSION 
BEST TELEVISION SERIES – MUSICAL OR COMEDY 
FLEABAG 
all3media international limited / BBC Three / Amazon Studios; Prime Video 
BEST PERFORMANCE BY AN ACTRESS IN A TELEVISION SERIES – 
MUSICAL OR COMEDY 
PHOEBE WALLER-BRIDGE FLEABAG 
BEST PERFORMANCE BY AN ACTOR IN A TELEVISION SERIES – MUSICAL 
OR COMEDY 
RAMY YOUSSEF RAMY 
BEST TELEVISION LIMITED SERIES OR MOTION PICTURE MADE FOR 
TELEVISION 
CHERNOBYL 
HBO Miniseries / SKY / Sister Pictures / The Mighty Mint / Word Games; HBO 
BEST PERFORMANCE BY AN ACTRESS IN A LIMITED SERIES OR A 
MOTION PICTURE MADE FOR TELEVISION 
MICHELLE WILLIAMS FOSSE/VERDON 
BEST PERFORMANCE BY AN ACTOR IN A LIMITED SERIES OR A MOTION 
PICTURE MADE FOR TELEVISION 
RUSSELL CROWE THE LOUDEST VOICE 
BEST PERFORMANCE BY AN ACTRESS IN A SUPPORTING ROLE IN A 
SERIES, LIMITED SERIES OR MOTION PICTURE MADE FOR TELEVISION 
PATRICIA ARQUETTE THE ACT 
BEST PERFORMANCE BY AN ACTOR IN A SUPPORTING ROLE IN A SERIES, 
LIMITED SERIES OR MOTION PICTURE MADE FOR TELEVISION 
STELLAN SKARSGÅRD CHERNOBYL 
ALL IMAGES COURTESY : http://www.goldenglobes.com