Going Up The Arts with BBC Presenter Thomas Magill
Exclusive
So you're going to be presenting the new podcast 'Up The Arts' – what sort of thing can we expect?
Up The Arts is going to be like nothing else around at the moment in the world of LGBT podcasts.  There are plenty out there but none that specifically exploring queer art.  So every week I'll be chatting to some fabulous guests who are trying to push boundaries in areas such theatre, literature, film and TV.
We've a special helping of UpTheArtsPodcast with an exclusive interview with @SimonCallow to mark the opening tonight of La Cage aux Folles @ParkTheatre also I've also been speaking to the director #jezbond and @michaelmatus subscribe & search UpTheArtsPodcast or the website pic.twitter.com/sN7RQynD7u

— Thomas Magill (@journotommagill) February 12, 2020
What's your background?
I've been living in London for the last 25 years but I grew up in Northern Ireland in one of the nicest parts of the country, and in my opinion the world, the Antrim coast.  I'm probably the proudest Northern Irish person you'll ever meet, but I also recognise the country has 'issues' when it comes to LGBT rights and a long way to go to catch up on the rest of the UK in terms of attitude to queer people.  They're making big strides forward but there are still loads to do.  I'd love to be at the fore front of that, and perhaps this podcast will help in some way, we will have to wait and see.  Professionally I've been a reporter/journalist at the BBC for the last decade and I've been lucky to work on some of the biggest stories in the last 10 years.  Some fun and some not so fun, but what keeps me going is my love of theatre.  I've been writing and reviews theatre for the last decade and presenting my own podcast Up The Arts feels like the next step on this amazing journey.
Why do you think there is a need for a podcast that focuses on queer art now?
Art can be a powerful way to open up the debate around subjects that many may find difficult to talk about.  Some of us will be familiar with the hilariously funny and camp musical La Cage aux Folles.  It's set in the 1970's and at the heart of that story, George and Albin have to deal with open homophobia and bigotry.  Some might say little has changed in some parts of the world and given the political landscape at the moment here and globally, I'm really pleased to see the play La Cage aux Folles is back at the Park Theatre in Finsbury Park.  It's been 10 years since it was last on the stage in London and I think discussing plays like that will help a younger audience appreciate past struggles and perhaps encourage older people to open up about their experiences.
Apart from hearing about La Cage aux Folles what else can we expect?
I'm keen to chat to super interesting people involved in LGBT art and culture.  There are so many folk out there doing incredible things that are being overlooked by the mainstream and that don't have a chance of being discovered or talked about.  I want to tap into that wealth of experiences on my podcast Up The Arts and hear from those voices within our communities.  We are a massively diverse group with different stories, backgrounds and opinions and I want to hear from as many people as possible.  One of my first guests is the wonderful Michael Cashman CBE who has a fabulous story to tell about growing up in the east end of London and the fascinating life he's lived.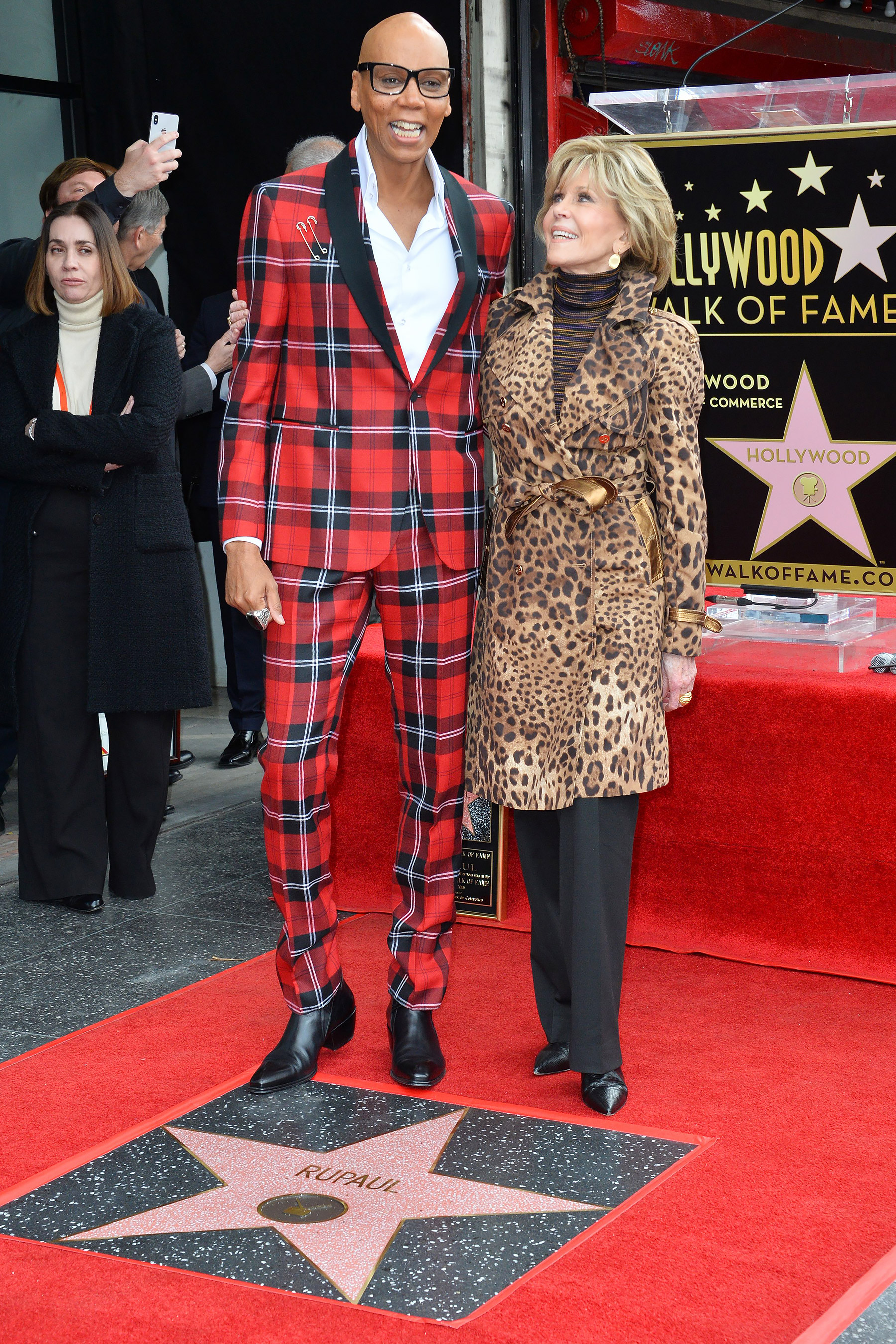 Living Legends Ru-Paul and Jane Fonda
Do you have a dream guest you'd love to interview?
Absolutely and Up The Arts is not only about exploring areas of queer art and culture that's not being explored by the mainstream, but it's also about having a laugh and some fun with those from our fabulously diverse community.  Ru Paul is amazing and since the first series of RuPauls Drag Race UK I feel like she's been rediscovered here.  I was at Dragcon a few weeks ago at London Olympia and I was stunned to see how many people turned up and how many had dressed up in drag.  She has given so many people a new confidence to put two fingers up at the world and to come out and dress how you like.  I love that, but she is also razor sharp, witty, beautiful and kind.  What a joy it would be to have her on my show.
When do you launch and where can we hear you?
We are already going strong on twitter @UpTheArtsShow and online at www.uptheartspodcast.com.  Use your favourite podcast app to find us – so Spotify, Apple etc. from the 6th February.  Also please please reach out to me if you know of something happening that you think we should be talking about.
By The Hollywood London Team