Engaging, uplifting and genuine self-help book that does exactly what it says on the can.
Rise Like A Phoenix is self-help and bestselling author Geraldine Mair's latest offering and helps readers in their transformation towards a better life. Supported by two other volumes, which are reference manuals for life's challenges, and brimming with quotes, affirmations and strategies.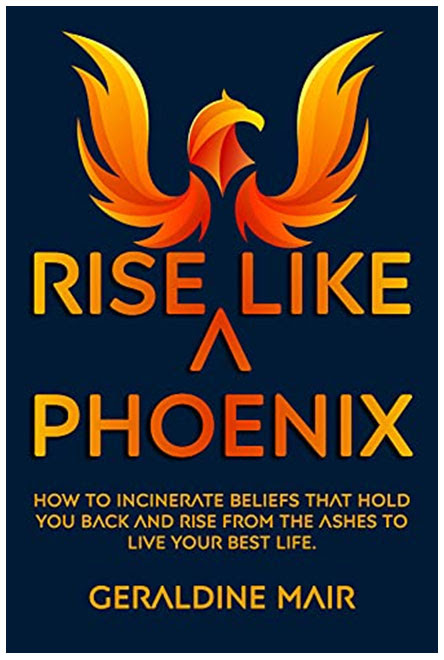 Rise Like a Phoenix, the first in the series, is a highly pragmatic book based on many personal experiences. It is the culmination of years of work and research into human habits that everyone is conditioned by. To reach any goal in life you need to learn the lesson, find the positive, and move on. You will learn how to shift those limiting patterns that hold you back and reignite your passion for life.
"What a really insightful and great read. Everyone goes through a phase in their lives where we feel like we are stuck in some sort of quicksand and its hard to get out of the negative patterns and thoughts that weigh us down. What comes across and shines throughout the book the most is that Geraldine gets you, is non-judgemental and cares. She cares about you and your life and wants you to have the most amazing future. It's almost like this book was speaking to me and I needed it right NOW. I thoroughly enjoyed it and will most definitely refer back to the chapters including the final ones on days where I need that boost.
Although so many, personal topics to share for me to understand, learn and reflect on are:
Our gut feeling
Teaching your kids the words are beautiful
You are the sat nav of your life and navigate.
Be smart with regards to your skills
Forgiveness in particular forgiving yourself
Gratitude
Meditation
Self-love/ care
A complete understanding of the brain (I was blown away and will use these tips).
The final chapters tell you HOW !!! which was fantastic and I will most definately be picking it up again. The book makes you want to rise and makes you realise you can make your dreams come true. Thankyou Geraldine for believing in me and allowing me to trust that I can do this.
I am ready for this new journey."
Review by Dr Fykaa Caan – Senior Lifestyle & Current Affairs Editor The Hollywood London Magazine
Everyone has memories from the past that caused them pain; it can either define you or give you the fuel to change and choose who you want to become. Obstacles are often dispersed like thorns across the path, hindering your progress; your fear is the immobilising anchor encouraging you to stay within the confines of what's familiar.
You will learn how to change through choice, reprogramme restrictive thoughts and how your mind tricks you to encourage conformity. And so much more. It's time to discover your power and use it to design the life you really want, and I can show you how inside the pages of this book. So, immerse yourself in this new knowledge and start the process of elevation beyond your own conditioning towards mental toughness.
Step into your greatness… Rise Strong, Accept and Soar.
The author says:
"I wrote my latest book to open your mind, reinforce your understanding, and set you free from the shackles of conditioning, replacing it instead with unlimited personality.
"In Rise Like a Phoenix I will guide you to dig deep and silence your self-sabotaging thoughts. Stop holding on to standards on living a life you didn't even set; It's your choice to either take control or give it away, so I invite you now to release your restraints and Rise Like a Phoenix."
Receiving five-star reviews from Amazon readers, comments include:
"Loved this book, so many great gems, scientific points and stories that helped me see things from a different perspective. Would highly recommend this book!" – Christopher
"Yes, Yes, Yes, you have absolutely nailed it Geraldine Mair. I have read countless books over the years on personal development, and this is better than almost all of them. There are other books with similar themes, none of them however informs you on such a human, compassionate and easy to read way and yet still kicks you in the backside when it's needed. It's modern, it's relative, it's powerful, yet full of humility and compassion as well as practical ideas. It is not about reading a book and suddenly everything is great in the world, however it is possible that reading that book becomes a catalyst for everything being great in your world. I think Geraldine Mair has given us all a catalyst. The author gives you hope, she raises you up and paints an accurate picture of what it takes. I love the courage the author shows in highlighting her own life and sharing her journey. It is beautifully written, so uplifting, so engaging and so genuine you won't want to put it down. A very talented author. Bravo !" – George Campbell
"I loved this book, just read a little every day, helped me through a difficult time, and made me think about life in a more positive way." – Amazon Customer
Published by Choose to Climb, Rise Like a Phoenix is available in hardcover (£12.99), paperback (£9.35) and Kindle format, and can be purchased on Amazon at https://amzn.to/3lfEuru, https://amzn.to/3lfEuru and https://amzn.to/3I1wEvn respectively
See Geraldine talk about the book on the Rise webpage: https://youtu.be/kggcd_g90KM
About the author:
From a humble background to supermarket worker, to manager, to business owner, to bestselling self-help author, Geraldine Mair has created a highly successful career as a businesswoman and more importantly a caring human being who has shared in the sheer joy of impacting other people's lives.
As a successful business woman she founded her own complimentary and wellness therapy company, working with sports people in competition preparation and with the general public in muscle injury recovery.
Through her talking therapies she has helped hundreds of people overcome mental wellbeing issues to help turn their lives around. A fully qualified holistic therapist, with diplomas in counselling and psychology she is sought after as a freelance writer and speaker, with published articles in the Far East, Africa and Europe, as well an acclaimed guest on podcasts in the USA and UK.
Geraldine Mair is also author of Amazon best-selling series 'Choose to Climb' which and '100 ways to Rise and Live Your Best Life', volumes one and two.
The Hollywood London Magazine