Report by : Ava Harriman, Entertainment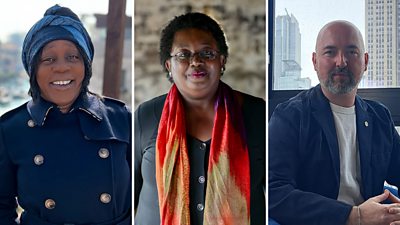 imagine… BBC Arts' flagship documentary series for BBC One and BBC iPlayer makes a return this Autumn featuring three new films with a formidable line up that will include writer and former Children's Laureate Malorie Blackman, artist and educator Sonia Boyce and writer, fashion designer and Booker Prize-winner Douglas Stuart. The new series starts on 31 October with Malorie Blackman: What If?
imagine… Malorie Blackman : What If ?
Alan Yentob follows one of Britain's best loved writers, Malorie Blackman, former Children's Laureate and now the first children's writer to win the prestigious Pen Pinter Prize (previous recipients include Salman Rushdie and Margaret Atwood). Bold, provocative and challenging, Malorie Blackman's books plunged children's literature into previously uncharted waters: her tragic reverse racism novel Noughts and Crosses challenged assumptions and declared her a writer like no other. Malorie's stories do not all end happily, but there is always hope.
Filmed as Malorie prepares to release her long awaited autobiography, Just Sayin': My Life in Words, this programme's intimate, revealing and at times shocking film revisits the key moments in the life that made her a writer – many never shared publicly until now: from living in a homeless shelter as a teenager; to her life changing diagnosis aged 18; to her struggles to become a writer – documented in an unlikely treasure: an unassuming binder containing the 82 rejection letters she received before being published.
Inspired by the absence of diversity in the stories she read as a child, Malorie Blackman has always championed inclusive representation in books. Over seventy books have made her one of Britain's best loved – and visible – children's and YA writers, empowering a generation of bold creative voices, from Stormzy and Tinie Tempah to Candice Carty-Williams and Patrice Lawrence.
With contributions by Michael Rosen, Dapo Adeola, Patrice Lawrence, Jacqueline Wilson and Paterson Joseph; observational footage of the editorial process at #Merky Books and unprecedented access to the writer herself. Readings by a diverse cast of local children from Malorie's beloved South-East London bring her work to life.
Made by an award-winning team, this beautifully crafted film is an uplifting portrait of one of Britain's most inspiring figures. Malorie Blackman's quest to become a writer is an astonishing and inspiring story of perseverance against incredible odds – and a testament to the transformative power of books.
imagine … Sonia Boyce: Finding Her Voice
Alan Yentob accompanies acclaimed artist Sonia Boyce as she prepares to make history as the first black woman to represent Great Britain at the 2022 Venice Biennale. Why does that matter? Because this historic, sprawling exhibition is widely seen as the most prestigious and influential showcase of contemporary art in the world. As art critic Waldemar Januszczak states, 'There's no bigger honour in art in Britain than to be the representative at the Venice Biennale. For better or worse you're remembered for it.' The pressure is on for Sonia Boyce to pull off the biggest exhibition of her career.
With behind the scenes access to the making of new art works and the installation process in Venice, we discover how Boyce's Venice Pavilion has been inspired by a passion project she has been obsessed with for over 20 years. Called the 'Devotional Collection', it's a massive archive of memorabilia relating to the contributions of black women in the British music industry and Boyce is bringing many of her collected names to Venice.
Told with a cast of contributors made up her closest friends, family and fellow artists, this playful, insightful and timely film charts the two months leading up to the Biennale's opening week and also explores Boyce's 40-year shape shifting evolution as an artist.
As well as following Boyce's personal journey, the film will also explore how she is part of a wider conversation at this year's Biennale. Boyce's close friend and former Brixton neighbour Zineb Sedira is the first artist of Algerian heritage to represent France, Boyce's former pupil Alberta Whittle is making history as the first black woman to represent Scotland and for the first time in its history, this year will see women artists dominate the Biennale. Could this be a moment of fundamental change not only for Sonia Boyce, but for contemporary art history?
imagine… Douglas Stuart ( w/t)
Alan Yentob meets Douglas Stuart at a critical point in his career as he emerges from the starlight of his triumphant debut novel, and winner of the Booker Prize, Shuggie Bain. imagine.. walks the streets of Glasgow's East End and the East Village in New York as Douglas Stuart tries to unite two very different sides of his life through his writing.
Shuggie Bain centres around an alcoholic single mother and her queer son navigating life on a Glasgow sink estate. It is distilled through Douglas's own troubled upbringing in poverty and addiction in 1980's Glasgow. imagine…takes Stuart back to the old haunts in the novel: the Sighthill estate, the Barrowlands market and the Grand Ole Opry.
We meet the two art teachers who, according to Stuart, 'saved his life'. Just like his character Shuggie, he'd lost his own mother to alcohol addiction. He was on the cusp of homelessness, struggling to stay on at school but in just a few years he went from a Glasgow bedsit to the Royal College of Art, and landed in epicenter of New York fashion working for Calvin Klein.
Alan Yentob retraces Stuart's remarkable journey in New York where he was now able to be open about his sexuality, having faced isolation and homophobia growing up in Glasgow. However, despite his astonishing success in the high end fashion world, he had not processed the memories of his youth. In 2009 he started writing the early drafts of Shuggie Bain as he travelled on the subway into work.
This year sees the publication of Young Mungo, his second, highly anticipated novel, a love story about two 16 year old boys coming to terms with their queer identity in the sectarian Glasgow of the author's youth.
Contributors include Alan Cumming, Val McDermid and Lulu, plus readings from local Glaswegians.
The programmes are set to TX on BBC One and iPlayer as follows : 31 Oct for imagine….Malorie Blackman: What if?, 7 November for imagine….Sonia Boyce: Finding Her Voice and 14 November for imagine…Douglas Stuart (w/t)